8 minute read
Does your skin feel more flaky and sensitive than usual? Has your natural radiance been zapped from your complexion? If this sounds like the state of your skin, it may be dehydrated. Here are the signs of dehydrated skin and my recommendations for how to fix it.
What Is The Difference Between Dry & Dehydrated Skin? | 4 Signs Of Dehydrated Skin | How To Fix Dehydrated Skin | A Mini Three-Step Routine For Dry Skin
What Is The Difference Between Dry & Dehydrated Skin?
Dry and dehydrated skin share many of the same signs and symptoms, but the differences are pretty distinct. Here is a quick breakdown of how these two skin care problems differ:
Dry Skin
Classified as a skin type, Dry skin is genetically inherited. Professional Beauty Therapy (Australia and New Zealand 2nd Edition) defines a dry skin type as fine and lacking in sebum. The characteristics of dry skin are:
the pores are small and tight
the skin texture is coarse and thin, with patches of visibly flaking skin
there is a tendency towards sensitivity (broken capillaries often accompany this skin type)
premature ageing is common, resulting in the appearance of wrinkles, seen especially around the eyes, mouth and neck
skin pigmentation may be uneven, and disorders such as ephelides (freckles) usually accompany this skin type
milia are often found around the cheek and eye area.
In addition, conditions such as hormonal imbalances or underactive thyroid can inhibit sebum production and contribute to a dry and lacklustre complexion. While you can't change a dry skin type due to genetics, you can improve its appearance by adding oil-infused products to your skincare routine.
Dehydrated Skin
Historically described as a skin condition, dehydration is the lack of free water in the skin's outermost layers, the Epidermis. It causes the skin to look thick and dull and accelerates skin ageing. Exposure to external elements (weather and seasonal changes), unhealthy diet (inadequate fresh produce) and lifestyle choices (alcohol or caffeine consumption) contribute to dehydrated skin. These factors deplete your skin's water content, resulting in a less supple appearance. A key takeaway is that dehydration is a lack of water — not oil. Even oily skin types can be dehydrated. Thankfully, it is easy to fix dehydration with topical treatments and lifestyle changes.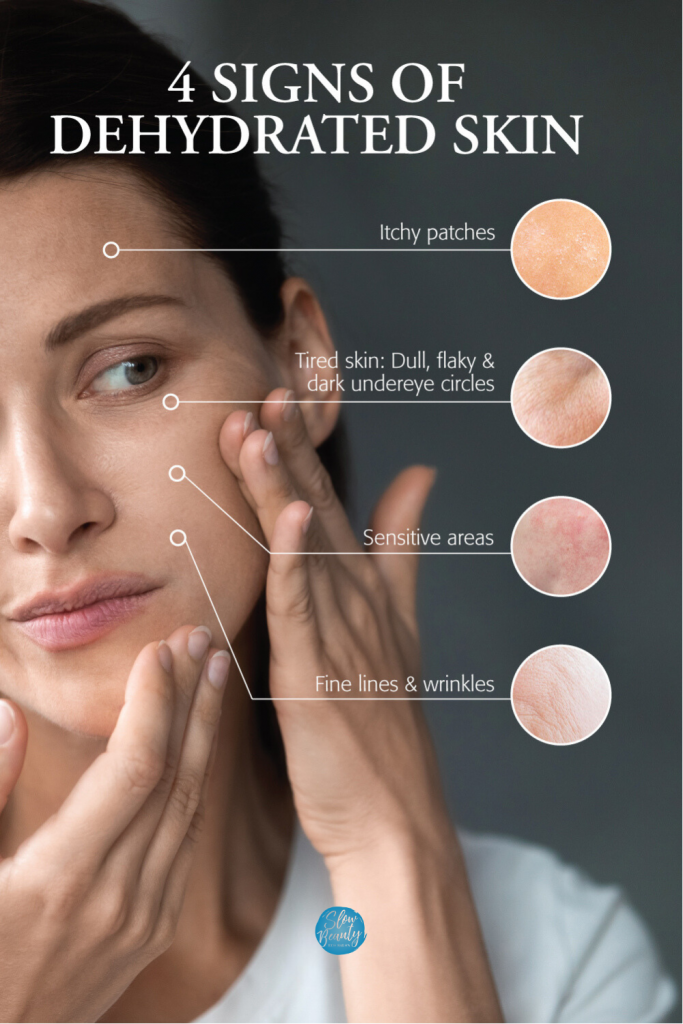 4 Signs Of Dehydrated Skin
Not sure if you're struggling with dryness or dehydration? Here are four telltale signs that you have dehydrated skin:
1. Itchy Skin
Have you ever returned from a ski holiday or a day at the beach and felt an unrelenting need to scratch? External elements like wind and extreme temperature changes can zap moisture from the outer layer of your skin, causing a tight, itchy sensation, often accompanied by flaking, regardless of the amount of oil on your skin's surface.
2. Increased Sensitivity
Sensitivity is one of the most severe effects of dry skin. When your skin's moisture barrier is compromised, it cannot effectively shield your body from environmental stimuli. As a result, irritants like bacteria and pollution can pierce its top layer, causing symptoms like redness, itching, and irritation to develop.
3. Dull Skin
Does your skin have an overall dull and tired appearance? Dehydration affects your skin's ability to perform essential functions like cell turnover. Without adequate hydration, your skin does not shed its most outer layer frequently enough, and dead cells accumulate on its surface, contributing to clogged pores, congestion and a lacklustre complexion.
4. Fine Lines & Wrinkles
To manually test for hydration, Professional Beauty Therapy (Australia and New Zealand 2nd Edition) recommends viewing the skin under a magnifying lamp, using visual and touch diagnostic techniques to analyse Hydration: A slight squeeze will show a crêpey or fine-lined surface between your thumb and pointer finger if dehydrated. Dehydrated skin often displays accelerated signs of ageing; however, unlike smile lines or crow's feet, these wrinkles appear as a network of tiny, triangular fine lines.
How To Fix Dehydrated Skin
Before outlining a skincare routine, these other lifestyle tips might help you.
1. Avoid Caffeine And Alcohol
Two of the worst culprits for dry skin are caffeine and alcohol. Both drugs are diuretics, which endanger the health of your skin by reducing its water content. By preventing the hormone vasopressin, which is crucial for rehydration, alcohol adds insult to injury. If you can't picture starting your day without a cup of coffee, don't worry: Most people agree that drinking a glass of alcohol in the evening and one to two cups of coffee each day is acceptable.
2. Best Products For Dehydrated Skin
To fix dehydrated skin, you must address your skincare routine and overall health. That means hydrating from the inside out as well as treating dehydration topically.
3. Buy A Humidifier
You might need to add moisture and turn off the air conditioner. Humidifiers are usually quiet and work in the background, evaporating water using a heating element. They form steam that gets vented into the air, creating humidity and moisture to help those with dehydrated skin.
4. Skip Strong Acids
Exfoliation is a no-fail way to brighten a dull, dehydrated complexion but for dehydrated skin, I recommend avoiding strong acids that could cause irritation. Healthy skin takes between 30 and 120 days to renew depending on age, and dehydrated skin takes even longer. Proper exfoliation accelerates skin cell turnover by sloughing dead cells from the surface to reveal the new, healthy cells underneath. As the skin isn't strong enough for strong acids at this stage (they will penetrate too quickly and cause irritation as there is no barrier), the best methods for exfoliation are enzymes and physical exfoliants as they work on the surface of the skin. I recommend a more gentle exfoliating option below in the skincare routine.
A Dehydrated Skin Care Routine
You must address your skincare routine and general health in order to treat dehydrated skin. This entails both hydrating internally and topically to cure dehydration.
1. Wash With A Gentle Cleanser & Lukewarm Water
The best way to cleanse dehydrated skin is with a gentle cleanser and lukewarm water. Choose cleansers free of harsh chemical additives that can strip the skin of beneficial moisture and aggravate sensitivities. Clean With Envy by Dermaenergy is a foaming cleanser with pineapple enzymes to help gently exfoliate the skin while washing it. Luxuriously foaming, it instantly lifts daily dirt, grime, make-up and oil for a deep cleanse without leaving the skin feeling stripped or squeaky.
2. Use A Hyaluronic Acid Serum
Hyaluronic acid (HA) is remarkably effective in replenishing dehydrated skin. This miracle ingredient is a humectant that helps bind and retain moisture, keeping skin soft and pillowy. According to the Milady Skin Care and Cosmetic Ingredients Dictionary (4th edition), hyaluronic acid's water-absorption abilities and significant molecular structure allow the epidermis to achieve greater suppleness, plasticity, and turgor.
Huge molecular-sized HA remains on the skin's surface giving vital water to these enzymes. Hydrate and Inflate by Dermaenergy contains three (3) essential sizes, a small, medium and large molecular-sized Hyaluronic Acid. By delivering hydration to all layers of the epidermis, the result is superiorly saturated, soft, hydrated skin.
4. Use A Gentle Exfoliant
As mentioned earlier, avoid harsh exfoliants that contain strong acids. Instead, opt for a gentle enzyme or acid exfoliant containing a lactic and mandelic acid blend. Derived from milk and almonds, these mild alpha-hydroxy acids are key ingredients in Dermaenergy exfoliating serums: Shed The Dead and LQD Exfoliant.
5. Protect Your Skin's Outer Layer
According to internationally acclaimed dermal science educator Florence Barrett-Hill, "Epidermal hydration is directly affected by … fluid intake. If that fluid intake is not maintained at an acceptable level, all secretion, respiration and transpiration functions of the skin will eventually become impaired." The key is preventing water from leaving your skin by keeping its moisture barrier intact and healthy. One of the best ways to achieve this is with a topical treatment like Dermaenergy's Filthy Rich. This rich formula contains Aquarich, which builds a breathable film on the skin to protect it while helping to reinforce the skin's own Natural Moisturising Factors. Vitamin F prevents transepidermal water loss and locks in moisture where your skin needs it most, so you can expect instant relief against dryness and tautness.
A Mini Three-Step Routine For Dry, Winter Skin
Perhaps you don't have dehydrated skin, but you're dealing with dry skin symptoms, such as cracked, flaky or itchy skin. These three products in my three-step routine will save your skin and keep your skin smooth and supple all winter long.
Step 1: Skin cleansing is essential to refresh and maintain a healthy complexion
Use Clean With Envy as the first step in your AM and PM skincare routine. Thoroughly massage a pearl-sized amount over your wet face, neck and décolletage, and rinse. If you keep your cleanser in the shower, you will never forget this essential step! This sulphate-free foaming cleanser thoroughly cleans the skin without stripping the precious barrier while pineapple enzymes work to unclog pores and balance oil flow.
Step 2: Use A Hydrating Serum
For your second step, apply a layer of the Dermaenergy Hydrate and Inflate as part of your AM and PM routine. Apply to cleansed skin over your face, neck and décolleté area before moisturiser and sun protection (AM). This serum enhances hydration on all skin types and soothes inflammation, particularly for those with dry and dehydrated skin.
Step 3: Apply A Moisturiser
For your final and third step, assess the correct level of oil the skin already produces to help determine which Dermaenergy moisturiser is right for you. If your skin already has a high production of oil, then adding additional oil is unnecessary. A combination skin type needs a small addition of oil. If the skin is lipid-dry, then we need to add more oil. I recommend moisturising as part of your AM and PM routine. Apply moisturiser to cleansed skin following serum application and before sun protection (AM). Dermaenergy moisturisers lock in serums and drive the active ingredients deeper into the skin. They contain Blue Light, an urban antioxidant protecting against damaging digital devices.
For a skincare routine tailored to your unique skin type and concerns, book a Skin Analysis & Consultation.