The secret to perfectly shaped brows
The eyes are the most expressive facial feature, and when correctly shaped, the brows provide balance and definition. Let me show you just how easy it is to transform your entire face by creating the perfect brow shape for you.
Planning and preparing for eyebrow hair removal treatments
Most beauty salons provide two main brow services: eyebrow shaping and eyebrow waxing. Eyebrow shaping focuses on restructuring the eyebrow by removing excess hair, while eyebrow waxing concentrates on eliminating stray hairs to maintain the current shape. Typically, 30 minutes is dedicated to eyebrow shaping, while an eyebrow wax service takes around 15 minutes.
The Slow Beauty Difference
Having gone into and come out the other side of the 90's super-thin-brow-trend myself, I've seen first-hand the damage that staying on the cutting-edge of current fashions can do longer-term. Applying foundational knowledge of skin biology with practical skills honed over a decade in the beauty industry, I help you achieve perfectly shaped brows not just for today, but for decades to come.
---
My secret super-power
---
I share your dedication to perfecting your brows. The frustration of switching between Brow Artists is all too familiar—I understand the frustration of being switched between Brow Artists and having to repeat your brow preferences all over again. Or worse still, finding a Brow Artist whose work you adore, finally loving your brows and then having someone else take them in a different direction. My commitment is to understand your preferences thoroughly, ensuring a consistent and personalised experience at every visit.
Best Practice Brows
Achieving fantastic brows goes beyond skills and a professional attitude. It requires a solid understanding of anatomy, physiology, diseases, disorders, and the science behind the tools and products used. I will show you how your ideal brow shape can significantly enhance your overall appearance, timeless of fashion trends.
However, ensuring your safety and satisfaction involves some necessary precautions.
To determine if you are a candidate for lash and brow services, new and lapsed clients (if more than 12 weeks have passed since your last Slow Beauty Brow service) must schedule a consultation first, at least 24 hours before booking the Luxe Brow Experience. This ensures we address any contraindications or potential allergic reactions to the products used in the service.
Communication is key
During the consultation:
You will share your wants and needs, and ask any questions you may have.
We will discuss the treatment in detail, and what results are achievable.
Determine whether you are a candidate for the treatment by reviewing your medical history (be sure to return all forms before your appointment) and confirm no contra-indications will prevent you from receiving the treatment.
We will screen for allergies or irritations to the products used.
Decide whether the treatment can achieve your desired results.
You will monitor the test site for 24 hours, and if there has been no reaction after 24 hours, you can book The Luxe Brow Experience.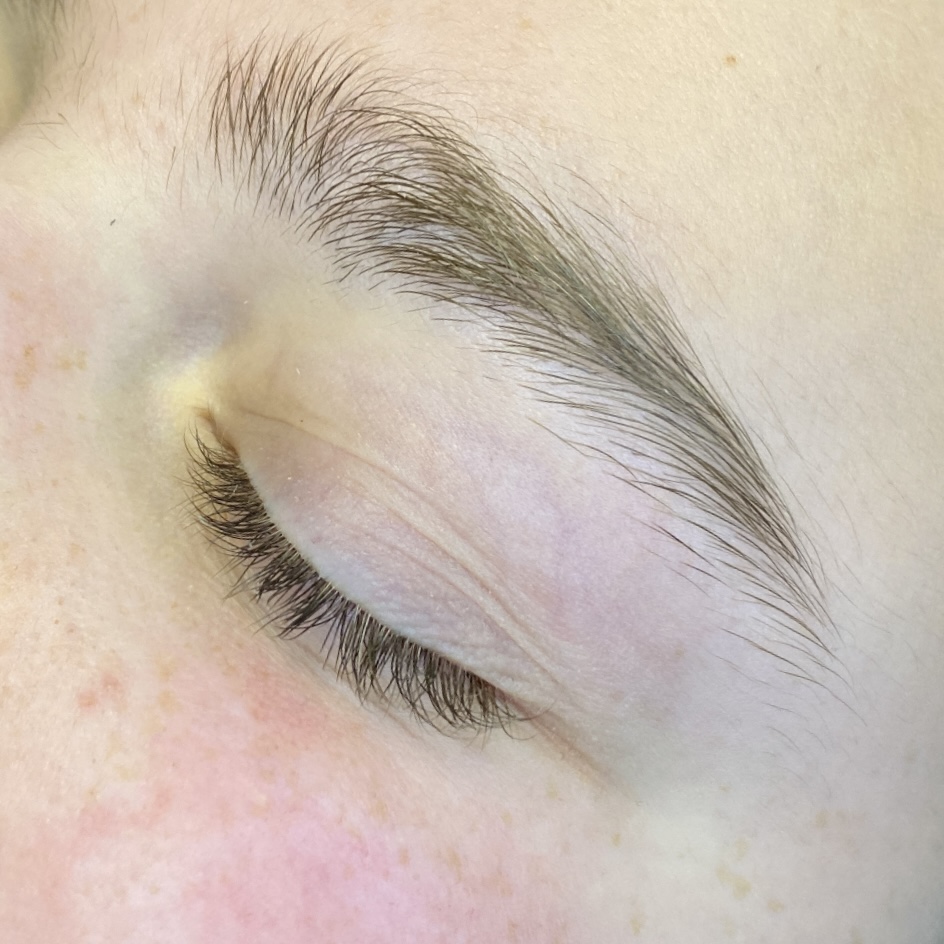 ---
Complimentary Brow Consultation $77 | Start Here
To ensure you are a candidate for brow services at Slow Beauty, new guests and guests returning after more than 12 weeks must schedule a consultation at least 24 hours before booking the Luxe Brow Experience. The discount will be applied to your service at the conclusion of your appointment.
---
Luxe Brow Experience $146 | First Appointment
Longer than a traditional brow-shaping appointment, the Luxe Brow Experience allows for Brow mapping (an expert technique used to create symmetry between the brows which involves measuring your brows and eyes to establish the most flattering, even shape for your face), and comprehensive consultation before any hair removal occurs. It also provides an opportunity to pinpoint any unique features, like bald patches or scarring in the brow area, ultimately yielding an entirely customised result depending on your individual eye and face shape. With this information, we can then expertly craft perfectly shaped brows tailored to you. The Luxe Brow Experience restores and transforms your brows while providing invaluable education with a bit of luxury.
Book this service after a Brow Consultation if this is your first time having brow services at Slow Beauty or if you have not had brow maintenance with us for 12+ weeks.
Brow Maintenance $78 | 4-8 Weeks Maintenance Appointment
Ideal for 4-8 weeks maintenance appointments. For brow guests returning after a maximum of 8 weeks only.
Brow Maintenance $116 | 8-12 Weeks Since Last Visit, If Longer You Need To Book Luxe Brow Experience.
Ideal for those who have left their maintenance appointment too far from the last visit. For brow guests returning after a maximum of 12 weeks only.
---
Enhancements
Eyelash Tint $49
Banish the boring and achieve the look of wearing mascara without having to apply makeup daily. By emphasising your eyes and lashes, you can have the eyelashes you want. Eyelash tinting will make your lashes appear longer, darker, fuller, and beautiful without having the bother of applying and removing mascara each day. Wake each morning with picture-perfect eyelashes.
Sugar $13
Have your brows tamed with sugar, rather than wax. Sugaring is superior to waxing, as it is much gentler on the skin, and because it removes hair in the natural direction of growth. Sugar is applied at body temperature, so there is no risk of burning the skin. The sugar itself is hydrophobic, meaning it cannot adhere to live skin cells, so there is no risk of the skin lifting.