At Slow Beauty Eco Salon, we use proven professional products and modalities to ensure that your skin is getting only the best of the best… and that you see the results you want.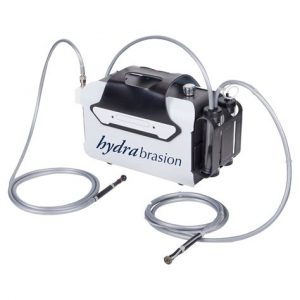 Hydrabrasion is a dynamic process combining cleansing, exfoliating, washing and diamonds to give your skin the star treatment it deserves. Not to be confused with traditional microdermabrasion, this process is much gentler on the skin and much less irritating, particularly for those with sensitive skin. New technology advances allow us to treat a range of skin concerns from blocked pores and acne to fine lines, wrinkles and even dull, lifeless skin. This rejuvenating treatment is perfectly suited to anyone wanting a quick skin refresh.
Ultrasonic exfoliation works by creating high-speed oscillations. It perfectly primes and prepares the skin for further treatment.
Microcurrent drives active ingredients deeper into the skin for more dramatic skin-corrective results.
Maximise the results of your facial with the intensified exfoliation of a peel. Peels leave the skin smoother and allow products to penetrate deeper, creating more youthful-looking skin.
CLINICAL PEELS:
Berry Peel: This indulgent anti-ageing treatment targets pigmentation while rejuvenating and brightening the skin.
Enzyme Peel: This luxurious treatment stimulates the skin leaving it rejuvenated and refreshed.
Pumpkin Peel: This deeply stimulating treatment helps clear problematic skin while refining and strengthening the skin leaving it smooth and supple.
ORGANIC CORRECTIVE PEELS:
Enzyme Peel – Accelerate the exfoliation process with this enzyme peel that removes dead skin cells, and reduces the appearance of pigmentation, fine lines and sun damage. This delicious purée of yam and pumpkin leaves skin looking firm and radiant.
Lactic Peel – Experience immediate results with this professional-only lactic acid peel. Provides a complete surface and pore-refining treatment by removing impurities and dead skin cells while minimising pores and smoothing the look of skin. This revitalising peel is self-neutralising and non-irritating, even for sensitive skin.
Advanced Peel – Boasting a total of 6 different acids (Flower Acids, Azelaic Acid, Mandelic Acid, Malic Acid, Citric Acid and Lactic Acid), this superior professional strength peel removes layers of the skin to reduce hyperpigmentation and inflammation, fine lines and wrinkles and is also suitable for sensitive skin types. ActiWhite™, derived from sweet pea extract, lightens the appearance of the skin, while gardenia stem cell technology improves elasticity and skin tone for a younger-looking appearance. Arctic berries, lingonberry seed oil and hibiscus seed extract also aid in offering a power-packed peel that instantly reveals radiant skin. Best results are seen with a series of professional treatments once or twice per month, supported by home care with the Peel & Peptide Illuminating System retail kit. The cycle can be repeated and ongoing.
Salicylic Acid Peel -This professional-only concentrated peel delivers active salicylic acid for maximum results without irritation. This treatment targets pore congestion, rapidly removing blockages to help minimise the look of breakouts. Suitable for all skin types, this peel exfoliates and refines skin for a visibly rejuvenated appearance.
AHA Treatment – This hyperactive Fruit Pulp Peeling Treatment is great for dry, dehydrated, oil-deficient, clogged, blemished or acne skin types. This professional-only concentrated peel refines the skin and reduces the appearance of wrinkles by nourishing and toning the skin. It assists in skin renewal by sloughing off dead skin cells to improve the skin's texture and provides essential oils while adding moisture to the skin.
Detox Firming Peel – This naturally exfoliating peel cleanses the pores deeply and tones the look of the skin. The combination of blueberry juice, raspberry juice, blackberry juice and pineapple extract is high in vitamins and antioxidants that nourish and refresh your skin. Plus, lactic acid will remove dead skin cells and improve the appearance of your skin's texture.
A skin-boosting treatment featuring Neon and acne-fighting Argon to keep breakouts at bay and quickly dry up existing breakouts.
Improve Your Skin Profile
High-frequency treatments are a safe and 100% natural way of improving cellular turnover by oxygenating the various layers of the skin. This improves elasticity over time to reduce fine lines and softens wrinkles.
Natural Acne Treatment
Fusion applicators include Argon which reduces acne healing time by up to 90%. Even if you don't suffer from acne, Argon has been shown to offer complexion-calming benefits. High-Frequency treatments naturally fight acne-causing inflammation under the skin surface to smooth out your complexion.
This treatment can be conducted on any part of the body.
LED Light Therapy is painless and relaxing and is one of the safest, quickest and most affordable ways to achieve younger-looking skin.
Light therapy is the application of specific wavelengths of light to tissue to obtain therapeutic benefits. Research has shown that LED is an effective therapeutic modality to promote the healing of skin wounds. The biological effects promoted by this therapy are related to the decrease in inflammatory cells, increased fibroblast proliferation, angiogenesis stimulation, formation of granulation tissue, and increased collagen synthesis. LED light therapy is also not for its ability to rejuvenate skin, treat acne, decrease inflammation and improve microcirculation.
Blue light penetrates through the epidermis and is known to kill P. acnes bacteria, which is responsible for acne. Blue light activates porphyrins, chemicals produced by acne bacteria P.acnes. Activation of the porphyrins destroys bacteria.
Red penetrates into the dermal layer and has been shown to enhance collagen and elastin production through photobiostimulation of fibroblasts, making it fabulous for anti-ageing, acne scars, rosacea, eczema and psoriasis.
Near-infrared penetrates deepest, increases micro-circulation (tissue repair), decreases inflammation, and attenuates pain.
Available for in-studio treatments and at-home care. Lines include: